In Boston during the first half of the last century, there was a vibrant Lebanese community near the area which is now known as Chinatown. The community was rich with talent and counted among its members the poet Kahlil Gibran.
In this community there was a boarding house where one day a boy was watching a man carving something out of wood. When the boy asked what the man was making, the man said simply, "A spoon...". So the inquisitive child asked, "Why?" and the man responded, "Because i need one".
This simple conversation was the start of love affair between M. Paul Ward and the art of sculpting wood.
M. Paul Ward, current Vice President of the New England Woodcarvers, started carving in his teenage years and continues to the present day. In between serving in the Marines, marriage, a career as a teacher, four children and now three grandchildren, he has been not only a prolific artist, but also one of the most generous members of the New England Woodcarving community.
Paul, along with Rip Stangroom, has been a fixture in the New England Woodcarvers for decades, guiding presidents and making sure the day-to-day work gets done. Paul is also largerly responsible for the spacious new meeting location at Middlesex Community College.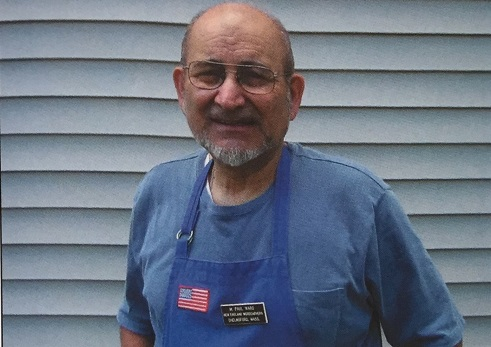 Paul's preferences in sculpture are dictated by his strong faith and his whimsical sense of humor. Paul is best known for his full-size statuary. His pieces are in churches all over New England and throughout the world. His work is strongly represented at Our Lady of the Cedars in West Roxbury, MA, and another church in Jamaica Plain, MA, is fortunate enough to be home to nearly a dozen of Paul's pieces.
St. Joseph's Shrine in Lowell, Ma, houses an installation of Paul's Saint Peregrine, the patron saint of cancer patients. It is moving to see the faith and hope inspired in the people coming to the shrine to pray to Saint Peregrine.
Among Paul's other talents, he is also an award-winning poet who organized the publication of an annual pamphlet of poetry written by and for woodcarvers for many years.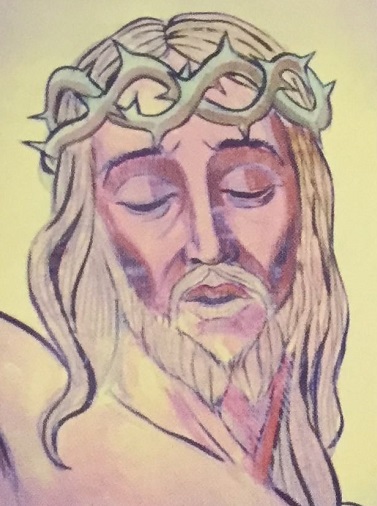 Paul gives a lot of credit to his cousin Bob Ward. Bob owns a florist shop and draws many of the patterns that Paul uses for his full-size pieces. Some of Paul's work is on display in his cousin's shop. His great sense of humor is reflected in some of his more whimsi- cal carvings, including a monkey which is a popular item at the florist shop. This painted sketch is an example of Bob Ward's work.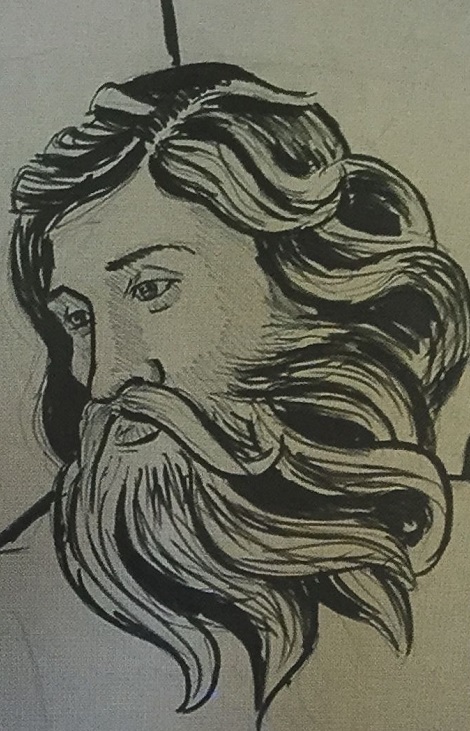 Another example of Bob Ward's patterns. Paul requested this sketch of Saint Andrew for a commissioned full-size statue.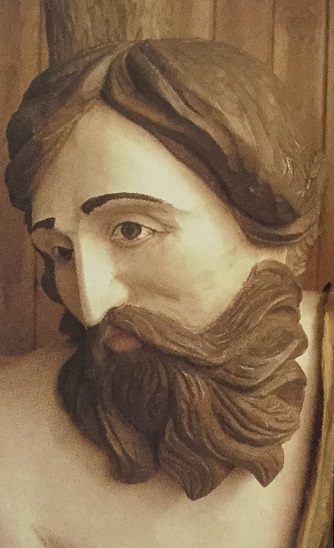 Here's is Paul's interpretation of Bob's sketch.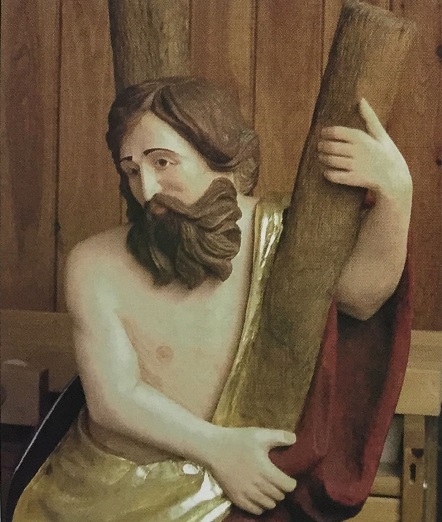 A view of the finished piece, which is now on display at St. Andrew's Church in Billerica, Massachusetts.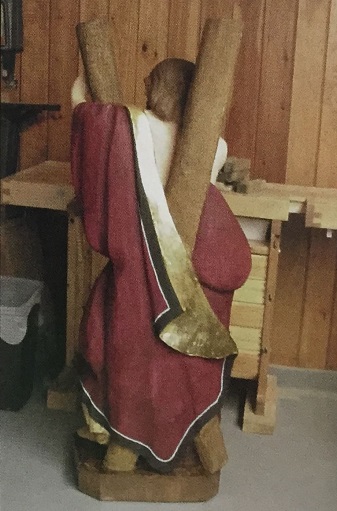 A final look at the back of the piece.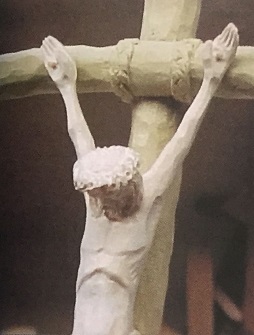 A crucifix similar in style to the one harried by Pope John Paul II.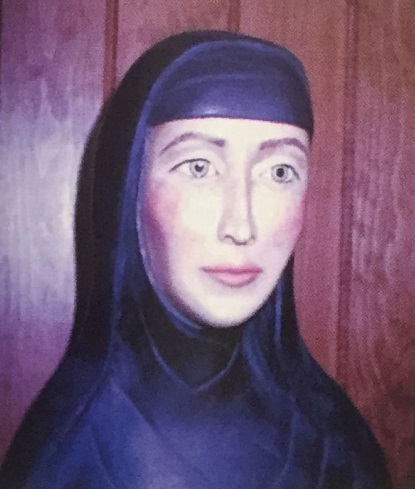 A 3/4 scale Saint Rafka. Saint Rafka was a Lebanese nun who is generally pictured hiding Christian children in her robes to protect them from persecution.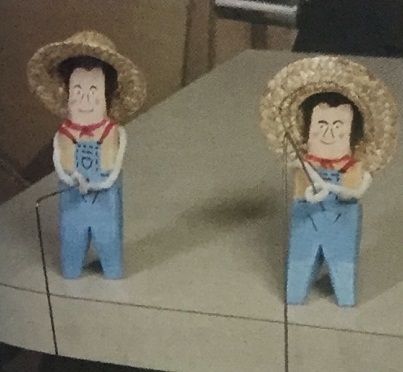 Something a little less serious. The fishermen are balanced by the height of the wire used to make the fishing poles.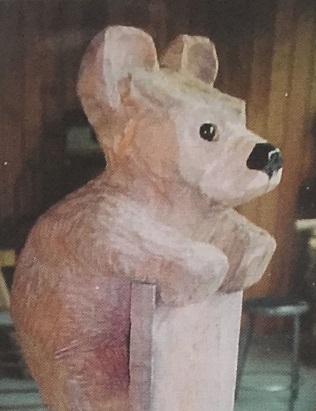 A bear cub chainsaw carved from a pattern I gave Paul.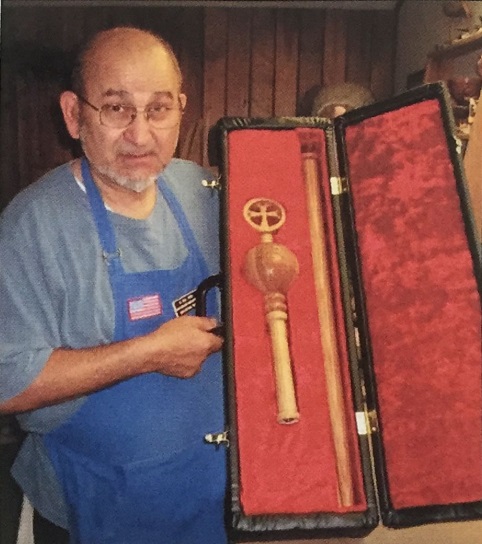 I had the distinct pleasure of collaborating with Paul on this crozier. I made the staff and the globe while Paul sculpted the cross and assembled the carrying case. This piece was a commissioned work for a soon-to-be bishop in Alabama.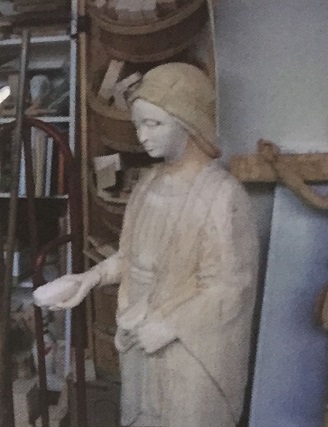 A commission for a 3/4 scale Saint Margaret in progress in Paul's studio in Chelmsford, Massachusetts.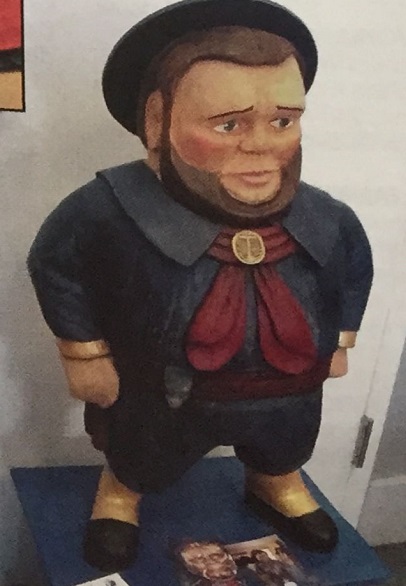 Paul's interpetation of Jack Tarr, after an original in the Shelbourne Museum in Vermont.
About the author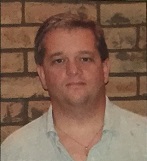 Robin Edward Trudel Robin was born and raised in the heart of New England. In between helping his lovely wife Joyce raise their four children, Robin has been President of the New England Wood Carvers. Robin is a member of the National Wood Carvers Association and an avid kayaker.