Let us introduct you Joe Coppock. He was very polite to give us this interview about his carreer and life like a carver.
ABOUT JOE COPPOCK
Joe Coppock is a dedicated family man, a lifelong outdoorsman, and a pleasure to be around. After retiring in 1983 due to ill health, he had all the time in the world to pursue his life's pleasures, although at a much slower pace. But in 1992 the carving bug bit him when he carved a fish out of soap with his grandson Jeffrey, and he now draws upon his lifetime knowledge of nature for his subjects. I don't know which he enjoys most, hunting, fishing, or carving, because his walls are adorned with trophies of each pursuit, but it is his carvings that bring us here.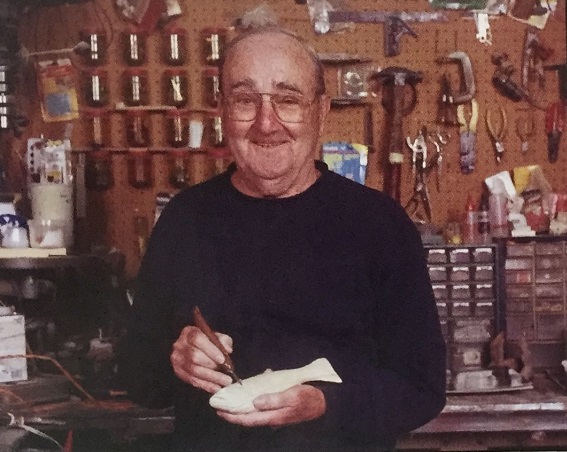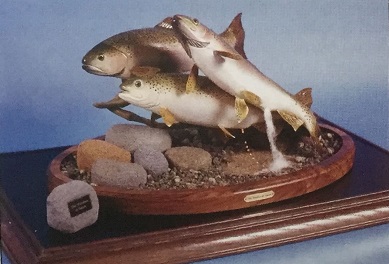 Best of Show William Rush Award, Ocean County, NJ Blue Ribbon, Delaware Valley Wood Carving Show
It is said that we are born with certain natural talents, and I would have to agree, especially with people that are artistic. Joe has always been able to draw, so when he gets an inspiration, he sketches it on paper and works out all the details before he touches wood. He carves mostly fish because it is an underrepresented contest category, and he would like to see more carvers take an interest in them before the category is dropped for lack of participation.
Soon after he started carving, he joined the Delaware Valley Wood Carvers Club and was elected to the Vice President position. He remains active in the club to this day. One of his pleasures is entering his fish in contests, and although he has enjoyed winning, he does it mostly for learning and demonstrating what can be done. He feels very strongly that the critique of the judges is one of the important segments of a carver's development, but does confide thaf at times you must have thick skin. He says:
"after all, we all view our work with our own eyes, and that is usually not critical enough, and if you are going fo get better, you have to listen to others."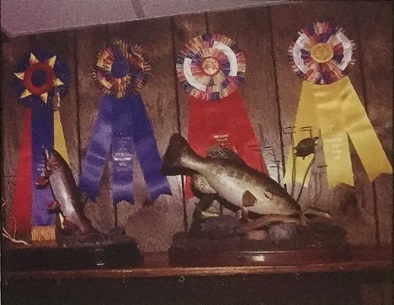 And listen he did. From local to regional shows and the Ward World Carving Competition, he has won well over 120 ribbons and numerous Best In Shows.
It got to the point that Joe won the William Rush award three times and the Ocean County, NJ, show seven years in a row. He felt that he might be stifling developing artists, so he decided to stop entering once he won the Helmut Dohl award from his own club. He won it two years ago and true to his word, he no longer enters those contests, but judges them instead. He is however, considering entering shows that he has not previously entered, just for the challenge.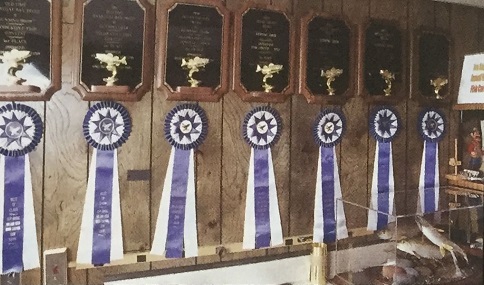 Woodworkers have shops; artists have studios. Joe doesn't call his either of these. He set aside an area at the end of his one car garage where he has a bench and keeps his tools. This is the left side of his area and is where he keeps all of his finishing and habitat products.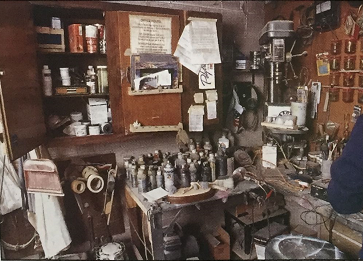 The center of his work area houses everything else essential to creating his dioramas, because all of his carvings represent not only the fish, but also their typical environment.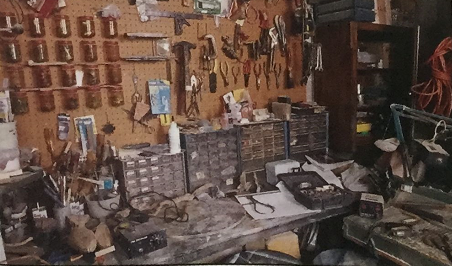 The right side is for additional storage and his down draft bench.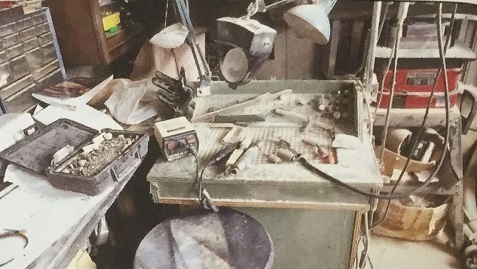 Aside from his band saw and several other wood working tools, his primary shaping tools are pictured below.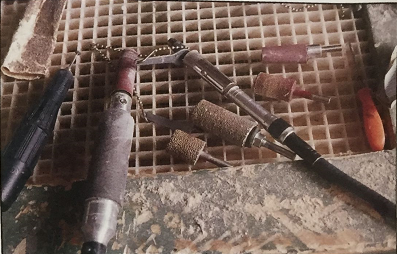 Joe's secrets to success: He has accumulated his knowledge by watching others and developing a lot of his own techniques with the overall goal of creating lifelike dioramas.
In most cases, he creates an exact pattern from fish that he has caught. He takes measurements from seven points along the body with a ruler and calipers plus numerous ones from highly detailed areas such as the head, gills, and fins. The only things he doesn't make or carve are the eyes and the display case. Everything else is created at his bench.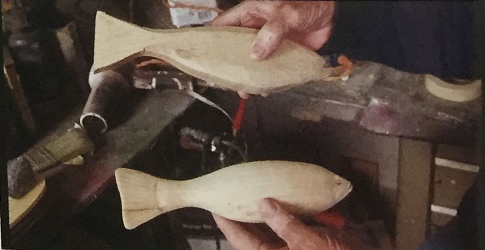 He uses basswood for the bodies and works up the rough shape on the band saw, and then starts carving with a Kutzail®.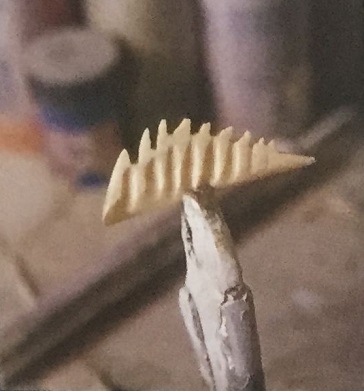 Joe uses holly for the fins and any other thin and finely detailed pieces because it does not get fuzzy. He then stabilizes them with Crazy Glue®. Joe warns that you have to use plenty of ventilation when power carving or sanding these pieces because of the fumes given off by the cyanoacrylate glue.
Although he uses power for the majority of his carving, he prefers a knife to make the crisp details around the head.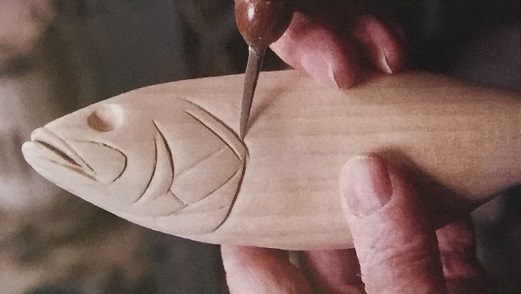 All of his fins are fitted into mortises for a firm hold, and glued in place. He does not rely on filler to cover any gaps or misalignment, but strives for the proper transition from the body to the fin. That way it will have a more natural appearance when all of the finish is applied. It may seem like a small detail, and it is a lot easier to just fill and grind, but this is how got to where he is - no short cuts.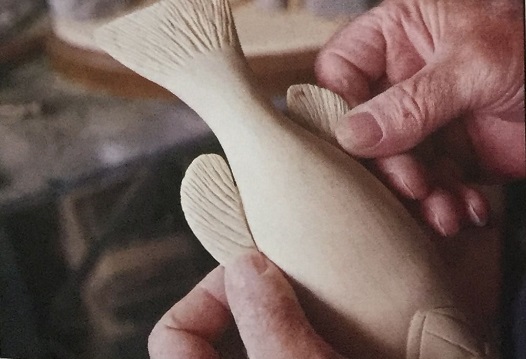 Scales are some of the most demanding details on a fish, and like anything else, can ruin an otherwise perfect carving. They are too numerous to count and can be a bit boring to apply, but their accuracy will make or break you. The secret to good scaling is a proper start. Joe uses several methods depending on the species he is carving. For bass and other coarsely scaled fish, he burns them in, and the temperature of the tip is critical. If it is too hot you get a burnt and charred mark that is too deep and will never look like a scale. An example is the mark to the left of his tip.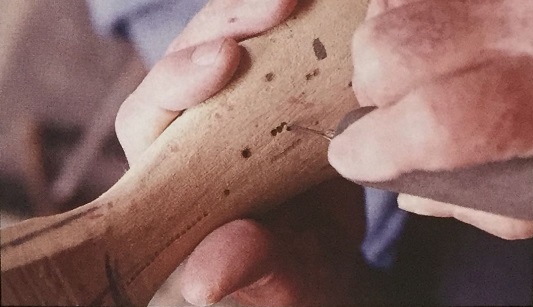 Joe loves his "The Detailer" burning tool. It has a wide temperature range that responds quickly to dialed in settings and the tips are easily changed.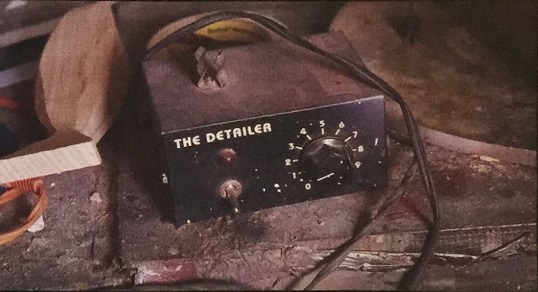 These are typical scaling tips. Joe cautions that it is important to use the proper size scale not only for the fish, but also for the position on the fish.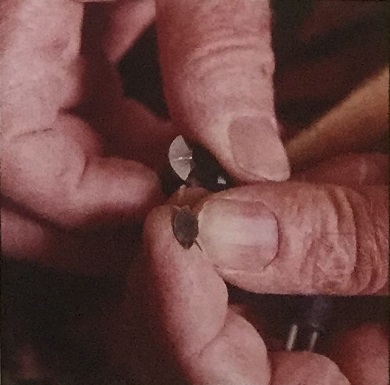 Joe is using a test blank to demonstrate his burning technique. He always makes test burns on a blank before continuing on the actual carving. Joe establishes the center scale line, and then uses a tip of the appropriate size for those scales and burns them in a little hotter. Once that line is completed, he changes to the next size tip, reduces the temperature, and starts burning the rest of fhe scales. From that point on it is just a matter of replicating what you see on a fish.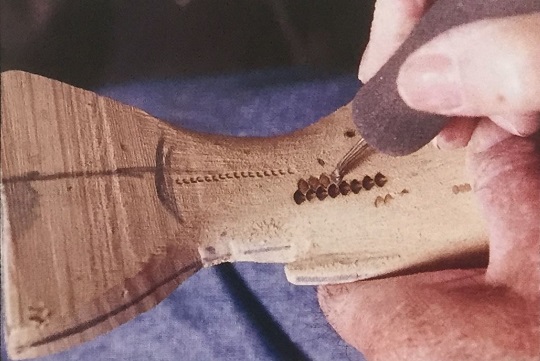 Joe's method for creating scales on trout does not involve burning but uses several other techniques. Rainbow and brown trout have visible scales that are not as prominent as warm water species. They are difficult to render by burning, so he uses bridal veil. He likes it because it is available in a pattern for any size fish he wishes to carve. It is typically used as a mask and then paint is sprayed through it to create the scale pattern, a method he used for years. However, in his quest for greater accuracy, he now glues it to the surface by applying a heavy coat of white wood glue and trims it away (he emphasizes - very carefully) from the non-scaled areas. After the glue has set, he sprays on a heavy coat of spray enamel, filling the openings to just the right depth for realistic scales. They even feel lifelike.
Here are Joe's finishing steps:
Apply two coats of sealer
Apply base color to non-scaled areas
Apply veil
Fill with white enamel
Add color with Polytranspar (Wasco)
Brook trout require a different technique because their scales are even less prominent. He seals with two coats of acrylic sealer and then rolls the scaled area with a Kutzall®. His finish of choice for brookies is Duron clear enamel.
He uses copper grounding wire for his supports and core material because it bends so easily and is strong enough to support the weight of the fish.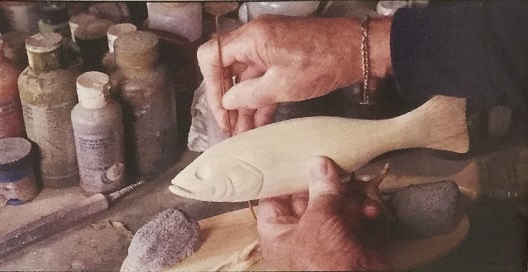 The habitat scenes are created with various materials, from metal such as the lily pad in the above photo, to carving wood and epoxy forms, to cotton and beads as in the "Wonders of Nature," or even the DecoArt® stone textures. He is constantly on the look out for any item or product that will enhance his presentation. After all, top prizewinners area collection of well-executed techniques, and Joe puts them together very well.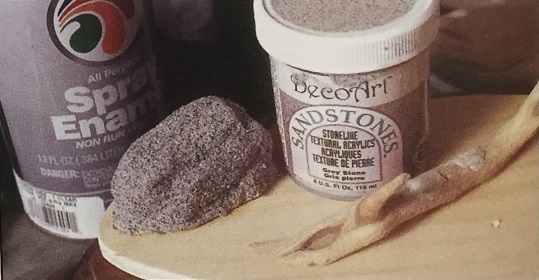 Joe has had good luck selling his carvings just by attending carving shows. He has never advertised, traveled the art/craft show circuit, or sold through galleries. Not all of his work is sold however, his wife, Mary Ellen fell in love with the "Coral Reef" and it now occupies center stage in their living room.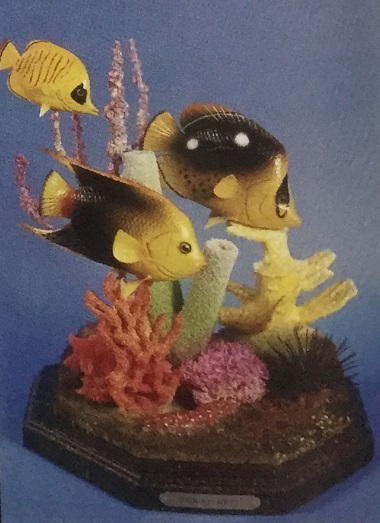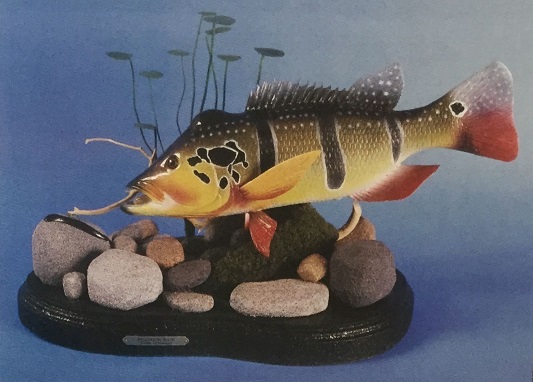 All of Joe's work is remarkable to say the least, as is this representation of a male Peacock Bass in full breeding colors. If he carves a fish that he has never caught, he does extensive research on all aspects of its life. Not only the particulars of its size, coloration, and conformation including spine and scale specifics, but also its breeding habits, habitat preferences, and any other details that will shed light on his subject. Joe's advice to emerging carvers is to know your subject inside and out, pay attention to the smallest detail, and practice every chance you get. You don't have to spend a fortune on tools; just learn how to use a basic set of knives, bits or chisels, and build on that as your ability grows. And most of all. if you take your carving seriously, enter contests and pay attention to the critics, especially the judges.