Growing up in a woodcarving family you come in contact with some interesting and wonderful people. Some I've know all my life ... some only for a short time ... but each has a compelling story about their own adventure in carving.
ABOUT CHRIS J. WHILLOCK
Chris, age 36, grew up in a wood carving family. He attended shows, helped around the shop and worked in the family business, Whillock Woodcarving. He and his brother Mark started their own company importing Stubai tools from Austria.
Woodcarvings themselves may also have exciting stories. I love to collect carvings most everywhere I go. I hunt for them in antique shops, swap meets, carving shows, and even on the Internet. You can really discover some neat pieces if you put your mind to it. I have selected just a few of the carvings I've collected to share with you (I have several hundred). These are some pieces that I thought might tell an interesting story.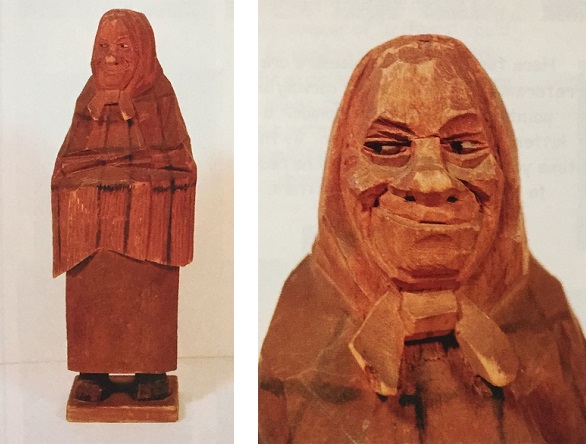 This carving is one that my father found in an antique shop in Vermont. It is one of our favorite finds ... I think he paid $60 for it. The carving stands 10" high and has a rich patina, it has a hint of white paint in the eyes and also a few basic black lines (looks like a felt tip marker) for decoration on the shawl. The bottom of the carving is signed "CJ Trygg 1925." According to the book Scandinavian Style Figure Carving by Harley Refsal, CJ Trygg lived from 1887-1954. Trygg, along with his three sons (Carl Olof, Niles, and Lars), moved from Sweden to Canada in the 1930s to sell their woodcarvings.
I have since collected a few more Trygg carvings. Trygg carvings (especially by the son Carl Olof) can be found on eBay. Expect to pay anywhere from $50 to $200 for a single figure.
Another woodcarving family I have been fond of is the Gunnarssons. Sven Gunnarsson was a furniture maker who turned his carving hobby into a career in the 1930s. His son Urban joined him in the 1960s and is still active today in Sweden.
This Gunnarsson signed rowboat figure is one of my favorites. It stands 4-1/2" high and is 9" in length. It has wonderful details and the oars are removable.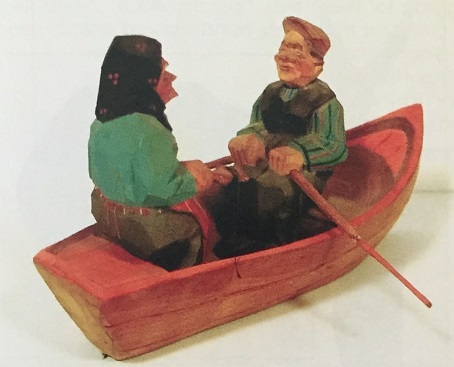 In fact, last year I had the opportunity to join a class being taught by Urban Gunnarsson. I took him a photo of the Gunnarsson carvings I had collected and he identified each piece for me. Urban is one of the fastest carvers I have ever met. His rule of thumb is "You are carving too slowly if you don't have two chips in the air at the same time!"
The following photo shows a few of the Gunnarsson carvings I have along with a photo of myself with Urban.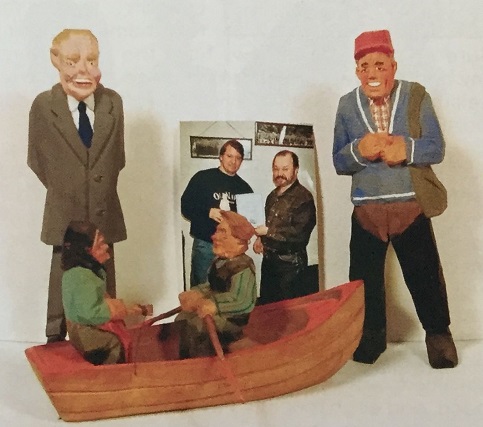 As a woodcarver, I have always tried to autograph and date most of my carvings. This not only gives me a record of my work but is very helpful to a collector.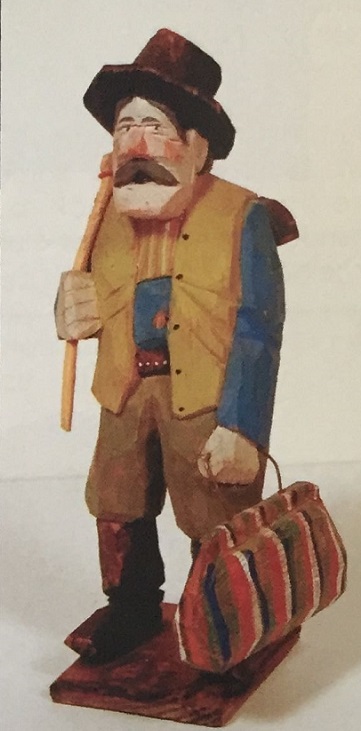 Another piece I purchased on the Internet is this colorful figure. The name on the bottom is M. Gustafson 1955. This piece stands 9" tall and is an excellent example of American folk art.
Many woodcarvers have passed through our studio doors and carvings serve as a great reminder of the friendships we have made.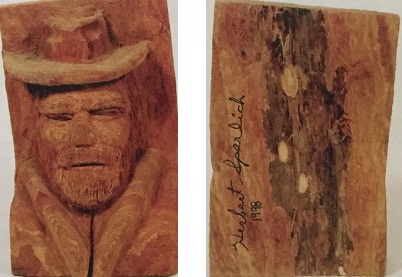 In 1998 Herbert Sperlich traveled several hundred miles from the Dakotas to visit us at our carving studio. As he left, I bought the carving below from him to add to my collection. This rugged cowboy is carved from cottonwood bark and stands 6" tall.
He was astonished when I asked him to sign and date the carving ... I am glad I did. Herbert passed away soon after. The carving tells a story - it is a great memory of a new friend.
Don Mortensen was a founding member of our local Cannon River Woodcarvers club. He taught one of the first classes we ever held and was a very active member. He loaned me this cow carving to display or sell or whatever I wanted. I didn't want to sell it. Don recently passed away and I have been holding on to it ever since. At his funeral, Don's family lined up his carvings for everyone to see...a lifetime of work...a story in wood. Someday I suppose I should give the carving back, but for now it is a nice reminder for me and our club members...a club that he helped build.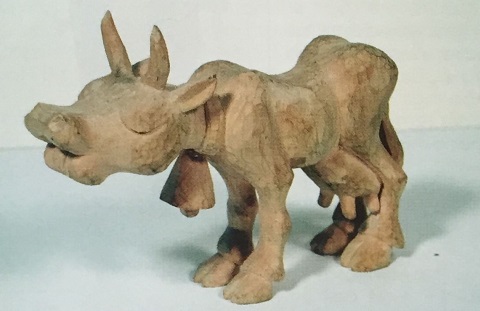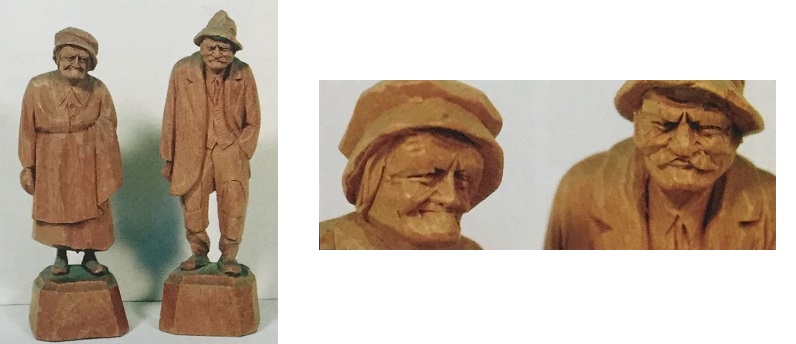 Not all carving stories are sad. Take these carvings for example. I purchased these two figures in an assortment of carvings from the Internet. On the bottom of each is a sticker. One reads: "Purchased in Quebec, Canada 1948," and it continues on the other carving: "on a trip made by Dolly and Sister Helen." I am not sure where Dolly and Sister Helen are today, but rest assured you, carvings are safe and sound in Minnesota. These carvings stand 7" tall.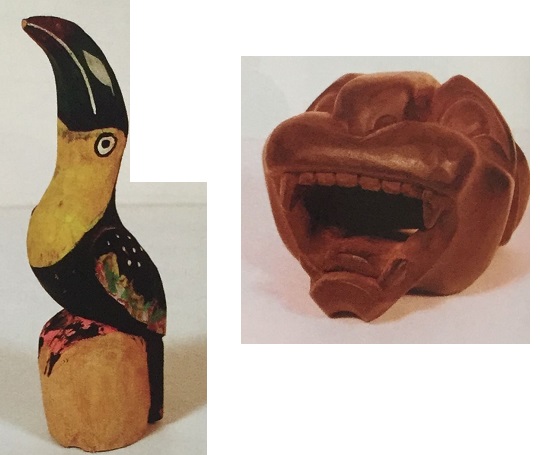 Another interesting story is about a couple of woodcarvings I purchased in Mexico. I wanted to get some examples of fine local crafts and ended up haggling for these two. I purchased a colorful tropical bird and this nicely hand carved animal head. The young man selling the artwork from the roadside stand assured me that they were hand carved and the artist was a local favorite.
I was pleased with my $50 purchase - until we stopped in a larger town and I visited a local arts and crafts store. Hanging on the wall was a variety of craft kits ... the kind you take home and paint. Sure enough, three rows from the bottom was my hand-carved one-of-a-kind piece. The kits were selling for $3 each for you to take home and paint/finish yourself.
About 15 years ago I went to Africa with a church group. I was determined to find a unique carving to bring home. After about a week of working, I finally found it on our way back to the airport. The carving measures 13" tall and is quite heavy. My problem was that I had no way to ship it back, and I wasn't too sure about packing it in checked baggage. So I emptied my carry on and slid it in. I carried it on the plane, hoping there would be room in an overhead bin...there wasn't. Also on my flight was a rock-n-roll band, and each member had two guitars. The overhead bins were packed. I slid the carving under the seat in front of me and there it sat. I was fine during the first 10 hours of the trip; however, the second 10 hours were a bit more frustrating. I was in an overcrowded plane, had no leg room, and the man next to me had the sharpest elbows on the planet.
However I got it home, and there it sits with the rest of my collection.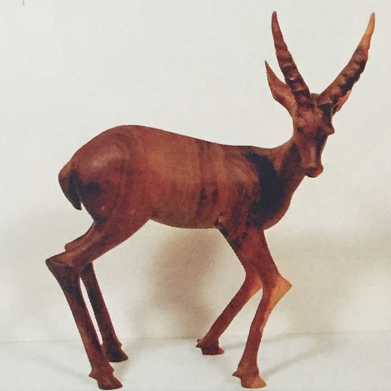 Another set of woodcarvings in my collection are these figures below. I was told that they came from an old carpenter's shop from the south. He had no formal training and just whittled figures from scrap. They aren't signed or dated but are fantastic examples of Early American Folk Art. These carvings stand 8" and 6" tall.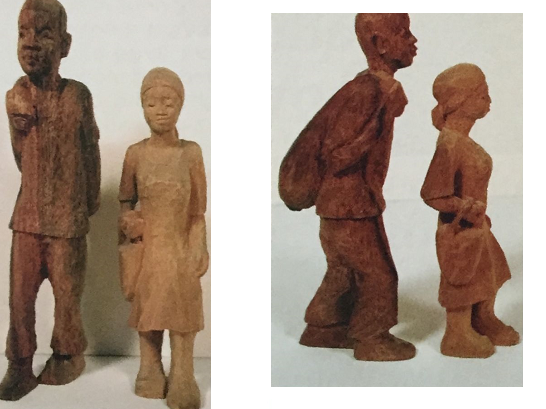 Carvings can tell a story literally as well. This oak album cover (8" x 11") was purchased in an antique shop here in Minnesota. On the cover is a detailed relief of a cabin and hand-carved lettering "Lincoln Memorial Cabin - Rebiled". On the back is a light house scene intricately carved with the date ''1949" and the words "Hals Barre Fyr." I haven't yet tried to research this piece ... it is like a mystery yet to be solved.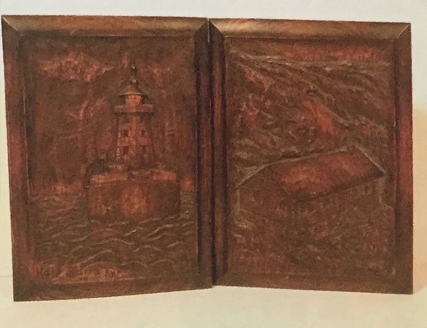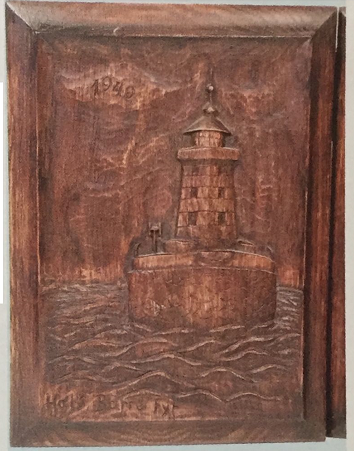 Collecting woodcarvings can be "dangerous" also. Most every collector has a white whale ... a carving they have been searching for and can't seem to get their hands on. For me that was a carving by Emil Janel. I searched antique shops, Internet sites, and carving magazines for a clue on how to get a hold of one of his carvings. Finally after several years I received a call from a Chicago collector who told me he was putting one up on eBay. I bid, was outbid, bid again, and was outbid again. I stayed up late watching the price go up and up. Finally when it was over I was HIGH BIDDER! I won!
The carving stands 13" tall and is called the money changer. It was pictured in a handwritten book by the artist so I know it is authentic, it was a real find. People ask me if I spent a lot for it. I won't tell you how much ... but here is a hint: I spent the exact same amount of money on the used GMC Sonoma Fickup I drive. Plus, I am getting a second job!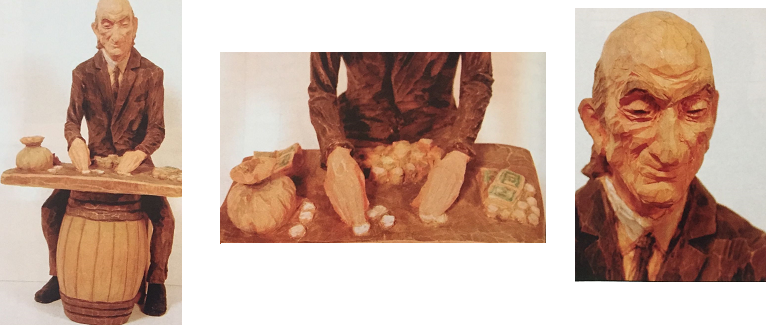 I hope you've enjoyed looking at a few of the carvings in my collection. Each has a unique story, a unique memory.
Hints:
Collecting woodcarvings is great fun. Here are a few collecting hints that I have learned through the years:
I especially like original American folk art figures; they are harder to find and are easy to display.
Carvings I have collected give me excellent source material. If I have trouble with an eye or ear...! can use them as examples to get ideas from.
eBay is an excellent place to purchase woodcarvings. Possible searches include: woodcarving, wood carving, hand carved, wood carved, wood figure, folk art etc.
Beware of what you purchase over the Internet I have seen carvings marked ANRI and they are not, some say] they are Trygg and they are imported and machine made.I purchased a carving that] said it was made of wood...it; wasn't...it was plastic. The person selling the piece assured me it was wood before, the purchase. Sometimes it is very difficult to tell.
Purchase woodcarvings at carving shows. The best place to start your carving collection is to attend a local woodcarving show. Why not support your local woodcarvers? You can trade with others. Sometimes meeting the artist behind the work is the best part.
I try to stop by as many antique shops as I can when 1 traveling. There is always something you can find.