For Kevin Strauslin, owner of Oregon 3D Art and Chainsaw Sculptures LLC, creativity comes naturally to him. Whether it was in drywall, where he was in demand'for his hand texturing, or now with his chainsaw sculpturing, coming up with ideas is fairly easy for him.
Becoming a wood-carver basically happened by accident though. While being bored at a job site, and with some time on his hands, Strauslin started playing in the mud and sculpted the drywall. His boss and friend saw what he was doing, said "you're an artist," eventually "fired" him from his job, and told him that he needed to become a woodcarver.
And now five years later, Strauslin's interest in woodcarving and his business continue to grow. Recently,I talked with him about many things, including how he started as a woodcarver, what he's currently involved in, and what his future goals are.
What is your age? Family? Occupation? Hometown?
I'm 53, and I was born in Los Angeles, California, but currently live in Salem, Oregon. I'm married with three boys, ages 18, 20, and 22. I'm a self-employed artist. I do mostly chainsaw sculpture, but I have used other mediums.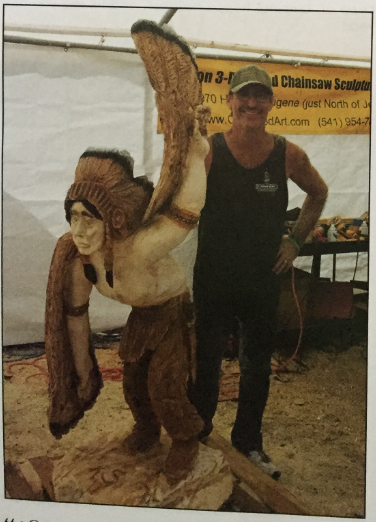 When, where, and how did you start carving?
I started carving in a friend's shop on May 6, 2008, and within four months, he retired and I took over the shop. Currently, I am in the process of building my own gallery and studio.
Do you have any early influences?
When I was young, my grandfather let me use his pocketknife to whittle things. About a year before I started chainsaw carving, I picked up a set of chisels and used them to carve faces in small pieces of wood.
Were there any books or teachers who helped you?
I watched my friend Neal Davis carve a couple of things, but I am mostly self-taught.
What was your first project?
I carved a salmon for Neal, and he said it was better than his last one and he hired me. For my first real project, I carved an angel (which was about 4' tall) and traded it to the local saw shop owner for three new saws with custom carving bars, and it was on!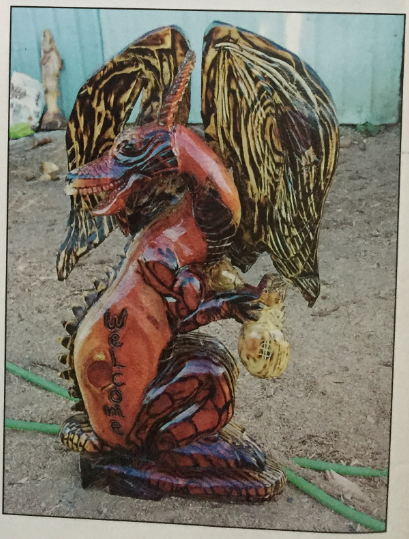 How much did your first carving sell for?
My first salmon sold for $ 150.
What tools did you first use?
I used chisels for about a year, and then I met Neal and started using chainsaws in 2008.
How did you develop your art—education, workshops, other artists, classes?
I started paying attention to the details of animals and things, and it just comes naturally for me. I started going to competitions, but I realized very quickly that the other carvers were copying what I was doing way more than I was copying them.
What other influences kept you going?
My customers. Some of my customers have become good friends and most have become great fans. Don't forget my wife and kids and my in-laws. They have all helped me and encouraged me.
Is there anything that has discouraged you or kept you from carving for a long period of time?
I got discouraged at a competition during my second year of carving, but from that experience, I have become a better person. The longest I've gone without carving is one and a half months because I had to move.
What are you currently working on?
I'm working on items that have more of a gallery look, feel, and finish; although, I still do a lot of outdoor items.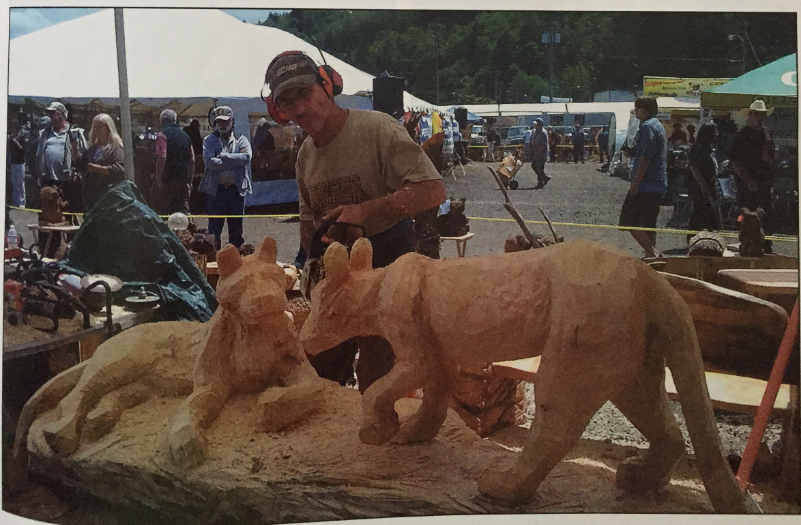 I am in limbo until my building is finished. But I am still finishing off leftovers from my last shop. I just finished a 7' Sasquatch, and I am currently finishing a kitchen table, a chair set, and a blue heron (black walnut).
What tools are your favorites to use?
To me, it's not about one tool being better than another, although some are. It's more about the people or company backing the tools. If their word isn't good, I don't do business with them.
What set of tools would you recommend to a beginner?
I would recommend Echo—only because they have a five-year warranty. But, again, if the local dealer wasn't honest, I would go with Stihl or Husky. They are all good brands
.
How do you sharpen your tools?
I sharpen my tools by hand with a file, unless I hit a nail or something hard; then I use an electric file, but I still finish it off by hand. Your saw can never be foo sharp.
What types of projects do you recommend to a beginner?
I would recommend things that sell, such as bears, fish, and eagles. These are the top three sellers. The beginner will need money to get started; money is a good tool to have, so carve things that sell.
Do you have any memorable stories from a customer, student, or teacher?
A customer came in one day and told me that she wanted me to carve a stump in her yard. She said that she had checked out all the carvers on the West Coast. She told me that she decided to use me to do the work over a couple of other carvers who brag and think that they are better than I am.
When I mentioned the other guys, she said that she was a retired art teacher from the University of Oregon and went to all the competitions. She watched those other guys evolve and she picked me because she knew that I was the better artist. She told me not to worry about the rest of them and she said that I was going to be beating them very soon. Then that next year in competition, I took first place in the professional division.
Do you teach?
I have taught a couple of individuals, and I would like to continue to teach.
How do you get your students?
They just come to me.
What are your favorite and least favorite kinds of wood to carve?
My favorites are black walnut, western red cedar (or any cedar), and giant sequoia. My least favorite kinds of wood are oak and fir—I avoid like the plague!
How long does it take to complete a project?
It can take anywhere from five to ten minutes to who knows how long; I had one take over a year. It depends on how much dedicated time I can spend during a stretch.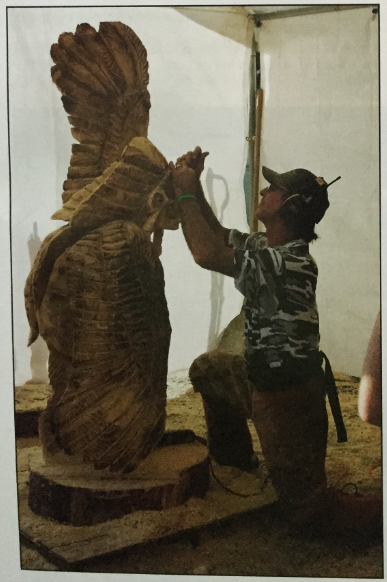 How do you charge for your work?
Sometimes I charge hourly, but mostly, I charge by the size of the piece.
How do you market yourself?
The product markets itself. You do have to keep up a good pace.
Who are some of your favorite carvers?
Some of my favorites are Jim Haskett, Brian Vorwaller, Chris Myers, Nick Myers, Steve Backus, and Bruce Thorenstein a.k.a. Thor. There are far too many to list.
Where do you get your ideas?
I normally get my ideas from discussions with the customer and then I expand upon those. My mind is always wandering like the wild geese in the West. I can't stop coming up with ideas.
Do you design your own patterns?
I don't use patterns or templates or projectors as some of the guys do. Everything is off the top of my head or I will have pictures to look at.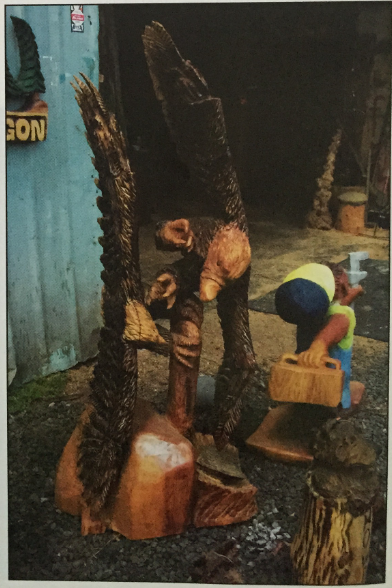 How do you finish your carvings?
I texture and sand them. Sometimes I'll go all the way to an 800-grit paper. Then I often use logwood oil, or I'll use a rub-on poly (like Min wax).
What types of projects have you wanted to try?
Once my new gallery and studio are done, I want to carve the whole face of the building about one foot deep. I also I want to create some kids' playhouses.
Have you ever been published or interviewed?
I've been in newspapers and on the local news many times. Check out our website's news page for a list (0regon3dArt.com). I have done interviews for journalism students.
I also had the people from the television show Finding Bigfoot come to my shop last year and film an episode.
Have you won any special awards or recognitions?
I have placed in the top five in most of the competitions that I've been in, and I placed first in the professional division in my third year of competing.
My biggest recognition was teaching my son and watching him take first place in the semipro division with only 18 months of experience.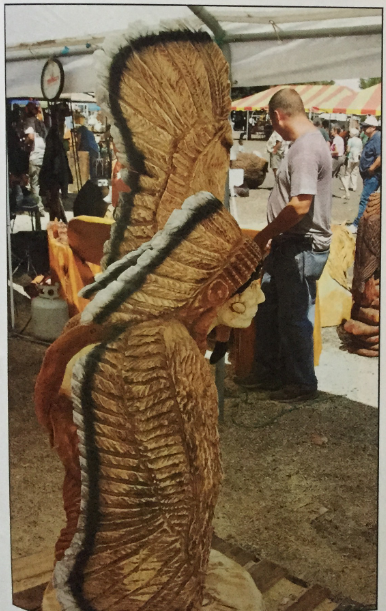 What do you do when you are not carving?
It's a simple life: eat, sleep, and carve!
Are you involved in any clubs or organizations?
I give many donations to a variety of groups each year. If f will help kids, animals, or the environment, I'll try to help.
How often do you carve each day/week/month?
I carve eight to ten hours a day, five to six days a week.
What are your carving goals for the next five years?
I want to earn enough money to pay off my new building. Then I want to be able to go to the Ridgeway Rendezvous in Pittsburg and maybe start competing worldwide.
What are your personal goals?
I want to live a long, prosperous life and enjoy my grand-kids. I would like to be able to leave behind a better world for my kids and grandkids.
How would you like to be remembered?
I want to be remembered as being a kind person. Also, it would be nice to have a piece in a museum someday (laughs out loud).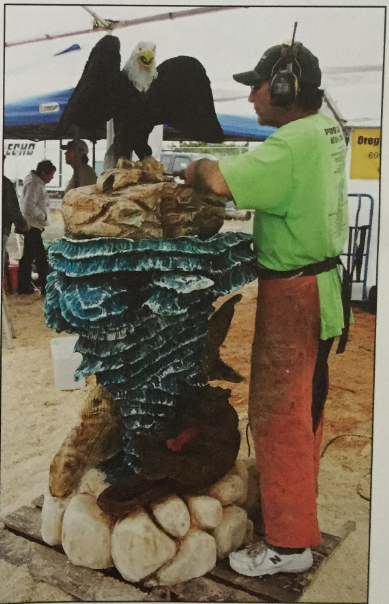 Do you have a suggestion for a beginner getting started in this art?
The first days are the hardest, but if you don't try, you will never know. If you mess up, you still have elaborate firewood.
Do you have a suggestion for a seasoned carver who is stuck in a rut?
I would take a long hike in the woods. When you get back, you will see things differently.