Self-taught artist combines relief techniques with realism to create fine-art carvings
Fred Cogelow was seemingly destined to be a woodcarver. "Everything kept leading to it,* he said. His father was a woodworker* who died when Fred was six, leaving behind a set of tools that Fred used to make his first carving: a face crudely gouged into his mother's breadboard. He later received a set of cheap carving tools as a prize at his job % as a newspaper delivery boy, prompting his 1 manager to say with a guffaw, "Hey, maybe J you'll be a famous woodcarver someday!
After graduating from high school, Fred attempted to carve a piece of an old fir moving beam. "I started carving with a dull carpenter's chisel," he said.. "It was a miserable piece of wood. After working on it for six hours with the chisel and a blow torch, I gave up for another six years.
In high school, Fred was steered away from art and woodworking electives. At the University of Chicago, he found greater inspiration in the stone and wood carving8 that adorn the neo-Gothic architecture than he did in his political-science classes.
That enchantment, combined with the acquisition of a fellow student's abandonnned woodcarving led Fred to carve a number of gargoyles. "I quickly burned out in the few jobs my degree qualified me for. I tried making furniture and soon I realized I was better at carving accents than at making the furniture itself. Had I realized I was so pathetic at the start I would have quit out of pride, but fortunately I encountered a professional artist whose carvings were worse than mine and I thought, 'Hey, I can do better than that!"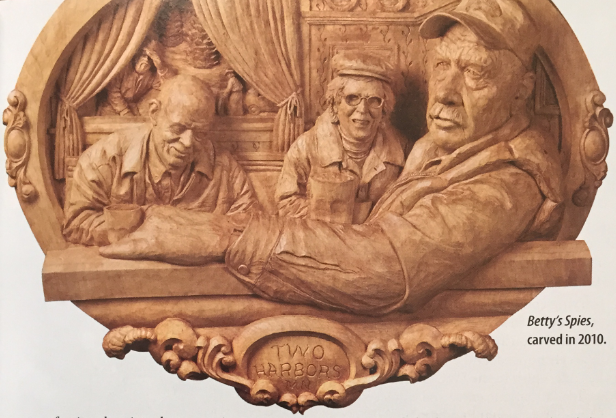 Fred often carves in mezzo relief, which falls between high and low relief. He enjoys the challenge of using the limited depth available to enhance the linear composition. He boosts the illusion of depth using perspective, foreshortening, and judicious undercutting, and by overlapping and compressing elements and warping the planes. Betty's Spies, a piece that won Best of Show honors at the 2010 International Woodcarvers Congress (IWC), now in Maquoketa, Iowa, is a good example of Fred's mezzo-relief style.
Fred is no stranger to in-the-round carvings as well and has won many awards for pieces ranging from small busts to life-size human figures and from caricatured works to sylized and realistic figures.
He averages 15 to 20 smaller pieces and four to five major works each year. Fred carves most often in butternut, which he harvests and mills himself. His political-science background sometimes surfaces as social commentary in pieces such as Rest Easy Tonight, which lampoons the degree to which the country's reaction to the September 11 attacks benefited defense contractors.
Fred sometimes works in green wood, which requires him to switch to other projects while the wood dries and stabilizes. He has no shortage of ideas to move on to. "Any good artist becomes increasingly aware of his or her environment. The more you do, the more you should find inspiration in that environment," he said. "There are far more ideas than time." The ideas and new opportunities often leave carvings interrupted. "Demands pop up," he said. "Other things come along."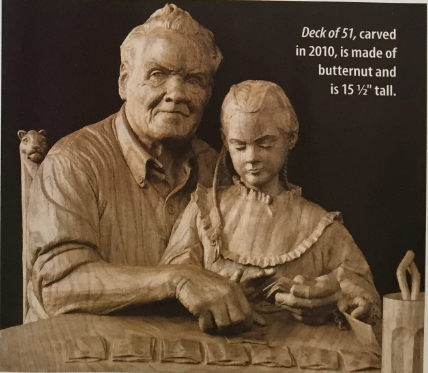 Among the things that came along in the late 1980s was a request from Henry Taylor Tools of Sheffield, England, to design some custom tools. As a result, the company introduced skewed gouges and bent skews, which Fred developed for accessing difficult areas and working against the grain "when ground and sharpened properly," he added. "I have designed a number of additional oddball tools that would be useful to most carvers, but I haven't had time to get them into production. My main concern is carving as much as possible while my eyeballs are still good. The tools will have to wait."

Carving competitions have been a major part of Fred's career, although he began inauspiciously. His first entry in 1978 was scarcely noticed, and deservedly so.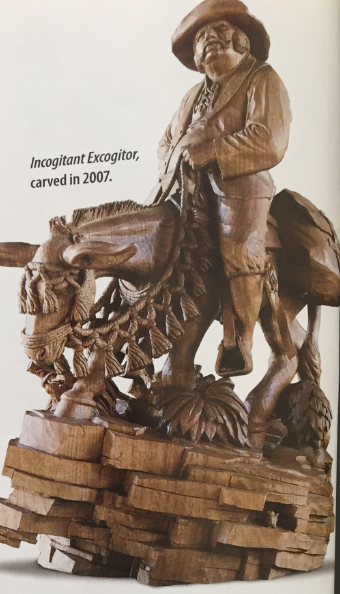 At the time, entry in the IWC competition allowed for automatic entry and transit to the Canadian National Exhibition (CNE)... which returned the entry in 20 pieces. Fred's standing improved dramatically when, after a hiatus, he returned to competition in 1983. He took five Best of Group awards at the IWC and Best of Show at the CNE. Prior to withdrawing from competition after 2011, Fred had won an impressive three Best of Show awards at the Canadian competition and 12 at the IWC. Interestingly, Fred entered not simply to compete, but as a form of marketing. "People hesitate to buy art," he said. "They're more inclined to buy a person's reputation than his artwork." He remembers making "a bit of a splash" with the awards in 1983.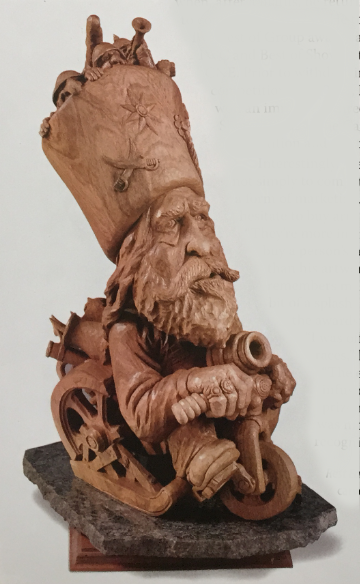 Rest easy tonight. Carved in 2003
"I was off to the races," he said. "The extra cash infusion [from prize money] was nice, but the recognition was more significant. It gave my name a bit of panache. Art generally is like the emperor's new clothes—believing is seeing, rather than seeing is believing. People viewed my work with the expectation that it was exceptional. It helped give me a strong local backing, which was very important."
The local backing grew to a national following. Prior to the economic downturn, Fred had clients buying many pieces before they were even finished. Fred is not fond of commissions, prefering to work on speculation, and still sells most pieces directly to collectors. Recently he has also begun working with the James Krom Natural Images gallery in Rochester, Minn. "The gallery neighbors the Mayo Clinic complex and draws the attention of an incredible number of individuals from around the nation and the world," he said. "The gallery was recently expanded, and Jim hopes to have a grand-opening event this fall with myself as the featured artist."
"The chief contribution I can make to woodcarving is simply to do the best work I can and increase the general respect for this medium."
By Bob Duncan