Welcome to Let's Talk Carving, a column devoted to beginning and intermediate carvers. With only five years of carving, I'm the same as you—loving to carve, learning, and making mistakes. In every issue, we'll get together and I'll share what I've learned (TIPS), plus I'll often pass on nuggets of information gleaned from past issues of Carving Magazine.
Reading e-mails from readers, I found myself quietly singing the words to an old song, "Letters, we've got letters, we've got lots and lots of letters." If you can remember what variety show (that should give you a hint) started with a female chorus singing those words, then I know how old you are and you know my age too.
Of course, there was no question that my brothers and I watched whatever television program my parents watched because, then, there was only one black-and-white television with five channels in the house, and should you even think of whining, you would hear, "Do you want me to give you something to cry about?"
By age seven, I thoroughly loathed Lawrence Welk, but loved Perry Como and always hoped that he would sing the lyrics to my favorite song (Round & Round), "Find a wheel and it goes round, round, round as it skims along with a happy sound."
I never could have guessed that years later my "happy sound" would be sharp steel slicing through wood, and my "letters" would be the e-mails that I receive from carving friends from around the world, offering me TIPS and words of encouragement.
In the previous article with tips for beginners, I offered methods of finding carving information from past issues of Carving Magazine. (If you missed that column, you can go to my blog, letstalk carving.com, to see all my past columns and TIPS.)
You may recall that I suggested using sticky notes (of all types and sizes) to locate articles. This column resulted in three carvers e-mailing me to describe their methods of finding old magazine articles.
The first e-mail (or "letter," as Mr. C. would say) that I received on this subject came from Andy DiPace, show chairman and webmaster of The Lancaster County Wood Carvers. Andy, a hobby woodworker for over 30 years, always wanted to learn how to carve wood. After retiring in 2002, he and his wife moved to Lancaster County, where he discovered that The Lancaster County Wood Carvers (LCW) club was offering a beginning woodcarving class.
That was the club's first class; now it offers numerous classes throughout the year).
TIP: Andy wrote: "For my method of cataloging magazine articles, I use MS Excel as a database. I enter the name of the article, type, publication, and issue and page numbers. When a new issue arrives, I take the old one and enter the information in my index (database). The great thing about this method is that you can sort the listing by any of the columns, and you can also search for any specific article or type of article. The magazines are then placed in cardboard magazine boxes (Staple sells them); each box has a label with the publication name and the issue numbers that are in that box."
Andy also wrote about his beginning woodcarving class teacher, club member Jay Herr. At every meeting that Andy attended, Jay would always find him and offer him help. Andy wanted to echo something that Jay had said when asked how he felt about woodcarving: "I have met the best group of people since I started carving; my only regret is that I didn't start carving sooner."
I couldn't agree more with either Andy or Jay.
This second e-mail that I received came from a retired dentist, Ian MacLachlan, who has been carving just over 4 years; but if you count how long he's been "carving" i teeth, then Ian's been carving over 35 years.
TIP: Ian wrote: "I take a few minutes after reading each j magazine to determine which articles (projects) I like and j might carve at a later date. Then I open my carving file on my computer and add them to the list. (Note: Ian uses, Microsoft Word). I subdivide the list by subject: Santa's, caricatures, animals, etc. I also devised a shorthand code for each publication. Lastly, I add the magazine's date of publication and/or volume number. As long as I keep the various magazines separated by title and in chronological order, it works great for me (my memory not being what it used to be)."
Ian, I think most of us experience this same issue.
Ian continued, "Once the new 'hope-to-carve' articles are on the list, I save it, and once or twice a year, I print an updated list and place it in the file boxes with the magazines as a master index. As I read new magazines and want to add more articles, I just hit 'return' and place the item where it belongs on the list."
Ian keeps his list alphabetized.
Ian's and Andy's TIPS require using a computer. However, some of you don't use computers or, if you are like me, have intentions of creating a magazine index using Word or Excel, but never find the time.
If you don't use a computer, you don't want to use my sticky note TIP, or you just never "get around" to creating that index (again, like me). Paul Klein sent me an e-mail that is the next best thing since sliced bread. (No—I am not THAT old; that was my mother s favorite saying.)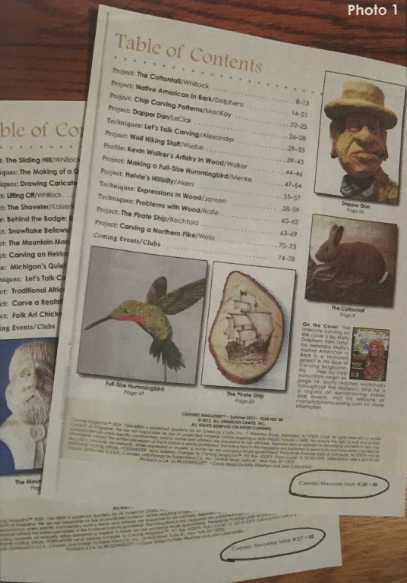 TIP: Paul wrote: "I just read your article in Issue #40 of Carving Magazine and thought I would give you my TIP for locating magazine articles. You may have already heard this, but what I do is make copies of every issue's table of contents and file them in a binder (see Photo 1). Whenever I want to find a particular article, I just look at the table of contents rather than thumb through every issue of the magazine. I read three different carving magazines, so my binder has a section for each magazine. Hope this helps."
Thanks for taking the time to write me, Paul. If that isn't the easiest method of keeping track of magazine articles, I don't know what is! Plus, when I do find the time to create an index of magazine articles, I'll have all the information right in front of me.
A month ago, I was working on a small, intricate carving that I had almost completed. At the time, I put off carving the eyes because the wood that I had grabbed in an enthusiastic burst of carving excitement (and what wood you grab is a good topic for us to discuss one day) turned out to be soft in the eye area, and I was not in the mood to play with it. And, yes, my tools were sharp.
I enjoy carving eyes, and I usually do carve them into the project early because, as my friend and woodcarver extraordinaire, Joe Dillett, once told me, "The eyes give the piece its soul." He explained that the body, with its language and motion, should reflect the carving's spirit, and you can't know its spirit until the eyes are completed.(I am paraphrasing here.)
So last month, I put that carving aside, eyes uncarved, and started another piece. Three days later, I received Arpad Juhasz's e-mail, which proved the old Buddhist proverb "When the student is ready, the teacher will appear" to be true. They never said "how" the teacher would appear.
TIP: Arpad Juhasz's wrote: "This is something I have found helpful when carving small detail in some really brittle pallet-grade mahogany. Take clear nail polish (the more "liquidy" the better) and paint over the area with it. (Note: The cheaper the polish, the thinner it will be. Expensive nail polish can be as thick as glue—not good for this application!) In a few minutes, it will be dry enough to carve and the nail polish will act as a binder (it helps to keep the wood together). I was doing eyes, about one-quarter-inch wide, on a realistic face and needed to do eyelids. The wood kept crumbling, although my blade was sharp. Using the nail polish let me do the delicate job successfully. (It also helped with the wings of the nose.) Because the nail polish is clear, it did not mess up the clear polyurethane finish."
Arpad, how could you have known that I needed your help just then? Thank you so much for sending that e-mail. Arpad also wrote that he carves at the Towson, Maryland, BYKOTA ("Be ye kind one to another"—a biblical quote) Senior Center. That's no surprise, Arpad. I have found, over and over again, that the word "kind" constantly crops up wherever carvers congregate.
Arpad's TIP came at the perfect time and I was able to easily carve small, realistic-looking eyes into soft wood.
Next, I had to paint the carving and I dreaded it. I would have preferred to leave the carving natural; however, it was a commission and the person requested that it be painted.
I have ruined more carvings through poor painting/staining techniques than through poor carving (well, almost). It is so painful to ruin a decent carving that way.
Knowing that painting/staining carvings is not my forte, I collect different finishing methods from magazines and seminars. To say that I have over 30 different methods of finishing a carving would not be an exaggeration. I have tried most of them and haven't loved any of them...until... (there really should be a drumroll here) I received an e-mail from Grant Reagan, and that old Buddhist proverb proved itself to be true twice in one week.
TIP: Grant Reagan wrote: "At craft and office supply stores, you can purchase water-mixable linseed oil to use with acrylics. I use it instead of water and it gives much better results. If it is a little thick, just add a little water. I would try it on a scrap piece first. Then let it dry for a day or so to make sure that you get the results you want before you try it on your carving. The one I have been using is Winsor & Newton Artisan Water Mixable Linseed Oil.
"After painting, I use spray shellac that I get from Home Depot to seal the carving. Unlike Deft, it has very little fumes and is much safer. It does give a high gloss, however. Apply the oil and acrylic mix to the bare wood, and then after it dries, spray on Deft or shellac. I even overkill by using Howard Feed-N-Wax and then buffing with a soft cloth. Mixing Raw Sienna and oil gives you a near-perfect Flesh Tone (experiment with ratios)."
I never thought that oil and water could be mixed, but the very next day I was at Hobby Lobby looking for water-mixable linseed oil. While I couldn't find the exact product that Grant used, I did find two products that had "water mixable oil" on the label (see Photos 2 and 3). I e-mailed the photos to Grant and he suggested that I use the product in Photo 2, although either would work.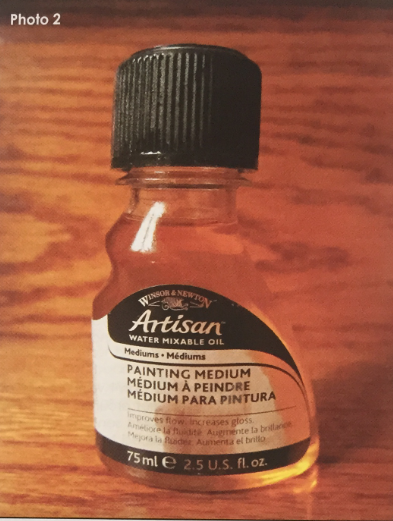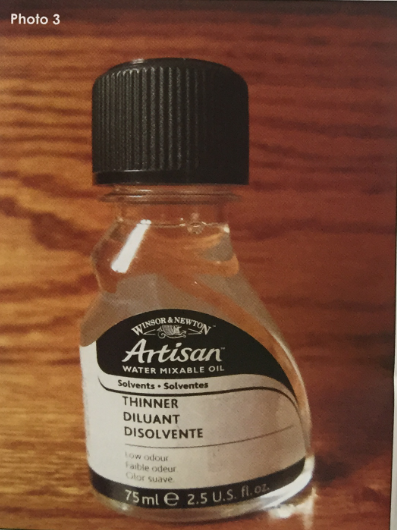 Saturday evening, I tried Grant's painting technique, and it worked so well that I painted until early Sunday morning.
It was wonderful and easy! For the first time, I had control over the paint, and I was not crossing my fingers and hoping that I wouldn't ruin a carving that I had worked on for weeks. At 3:00 a.m., I was dancing in the kitchen—with the blinds down, or the neighbors would have thought that I was high on paint fumes.
I usually spray a carving with Deft prior to painting it, but I didn't have to do so using Grant's technique. In fact, I didn't even experience any bleeding. If you want to see grain through your paint/stain, this is not the technique to use. If you just need to paint the carving, then this is a terrific technique. I had Deft, so I used that as a finish instead of shellac. It looked so great that I completely forgot about applying Howard Feed-N-Wax.
Grant, thank you so much for taking the time to send me your painting method. I will be using it for years and am grateful that you allowed me to share it with my readers.
I recently came across a quotation from Beethoven: "Don't only practice your art, but force your way into its secrets." That's what this column is all about...forcing our way into the secrets of carving, discovering those secrets, and then sharing them.
All the TIPS we share bring us closer to understanding the beauty and intricacies of wood, having control of our tools, and obtaining ways to improve our carving skills. I believe that woodcarvers are so giving with the secrets of their art because we are all on the same journey, and sharing tips and secrets help the individual as well as the entire carving community.
Amazingly, in this one column, we have discovered quotes from Buddha, the Bible, and Beethoven that apply, in one form or another, to woodcarving.
"Find a wheel and it goes round, round, round as it skims along with a happy sound."
May your wood be plentiful, and your tools stay sharp. Take care, carve lots, and always remember to smile.
Peace,
Susan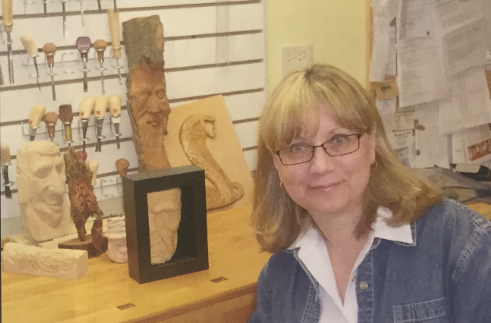 Susan Alexander lives in Orland Park, Illinois, with the memory of her sweet husband, Robert. Susan began carving in 2007. After her husband presented her with a bandsaw for their anniversary and she claimed that it was the best gift ever, he promptly topped it by having a studio built for her.
Susan is a member of Mensa and the National Writers Union (NWU). She has written three novels and has had numerous magazine and newspaper articles published. Susan works full-time, holds a black belt in judo, has completely rewired a 1967 Mustang, caught and released fourteen muskies (pulling one into the boat by hand), and is a freelance writer. In every minute of her free time, she carves.
In her column. Let's Talk Carving, she combines her two great loves—the written word and woodcarving. "Both," she says, "make beautiful sounds. "