If you have ever gone fishing for a day, you have probably dealt with biting flies and mosquitoes. Skeeter is having one of those days—the fish aren't biting but the mosquitoes sure are. Skeeter is 9-1/2" tall without the base (however, you can make him any size you like).
Supplies
1/8" and 5/16" V-tools
1 /2" Fishtail gouge
#9-5mm, #9-1Omm, #11-2 mm, and #1 l-6mm Gouges
Bandsaw (or coping saw or scroll saw)
Bench knife
Boiled linseed oil
Burnt Umber oil paint
Detail knife
Denture brush
Dockyard gouges (a small set)
Drill
Krylon Matte Finish
Paintbrushes (various sizes)
Simple Green Detergent
Soft cloth and paper towels
Sponge brush
Watco Natural Danish Oil
Finishing and painting hints
Wash the finished carving with clear Simple Green Detergent and water with a denture brush to remove pencil marks and handprints. Allow to dry completely.
Dip carving in Watco Natural Danish Oil to seal the entire carving (or use a sponge brush to apply an even coat of the oil), and let dry for 24 hours. Now that the carving is sealed, paint will go on evenly and smoothly— even on tough spots, such as the end grain.
I use acrylic paints diluted with water to create a wash; applying this diluted mixture to the carving allows the wood's grain to show through the paint. Mix about 1 drop of paint to 10 drops of water. Colors that are more transparent, such as white, may require less water in the mixture. Dry the carving for 48 hours to cure the paint.
Use a sponge brush to apply an even coat of antiquing mixture to the entire carving. Dab off excess with a soft cloth or paper towel after two or three minutes. Note: To create the antiquing mixture, combine 1 cup of boiled linseed oil and a small dab (about the size of a pea) of Burnt Umber oil paint; blend together until paint is dissolved. (Important: Paper towels or cloths used to wipe off the antiquing mixture can be combustible. Lay towels or cloths out flat until dry, or soak in a bag of water.) Allow the carving to dry tor week end spray with Krylon Matte finish.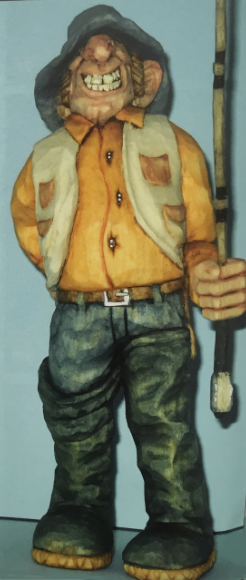 Paint colors
Antique White (teeth); Black (fishjng pole handle); Black Green (hip boots); Buttermilk (fishing line and vest); Cadmium Orange (shirt); Candy Bar Brown (hair shadow); Dark Gray (hat shadow); Medium Flesh (face and hands); Midnight Blue (pant shadow); Navy Blue or Denim (pants); Raw Sienna (boot sole/strap); Raw Umber (belt, hair, and vest pockets), Silver (belt buckle, fishing pole eyelets, and fishing reel) . Gray (hat); Spice Tan (vest shadow); and Tomato Spice (shirt shadow)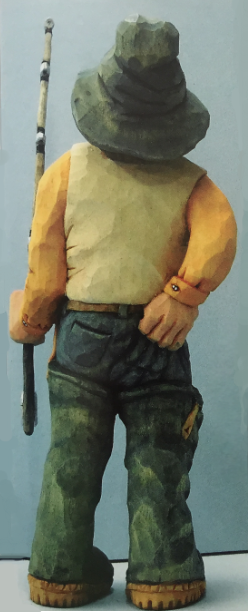 Tips
Drill one hole in the top of the hand and one in the bottom. Carve the fishing pole in two sections and insert each section into each hole. I used my bandsaw to cu out the fishing pole and then carved the details with my knife. If a bandsaw isn't available, a scroll saw or coping saw can be used.
Woodburn above and below the eyelets to create the look of nylon string.
To order a Skeeter roughout, shop online at www.dale greenwoodcarving.com or call 801-503-8754. Each roughout is shipped with full-color four-sided views and a close-up of the face.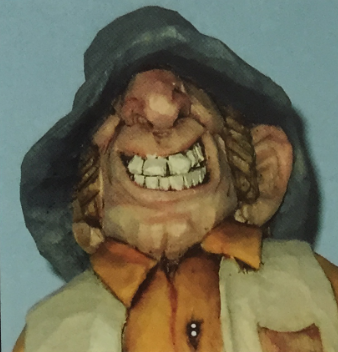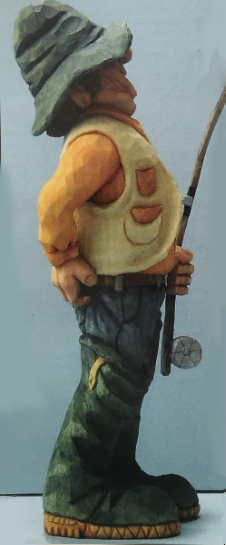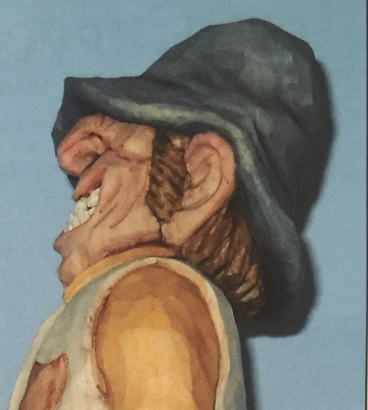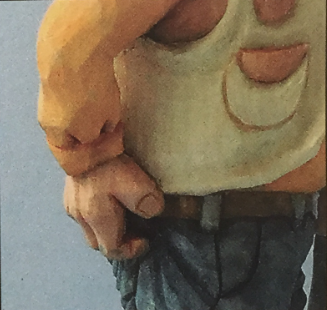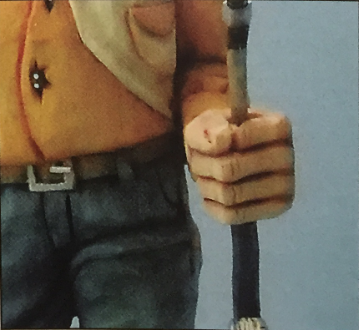 by Dale Green
Dale lives in Holladay. Utah, where he teaches weekly carving classes in his home studio. Dale has won numerous awards for his original designs, including "Best of Show" at the 2012 Caricature Carvers of America (CCA) Show and Competition. Dale is an active member of the Utah Valley Wood Carvers Club.